Another Slaughter
Another Slaughter
Another Slaughter
By Bob Gelms
I'm not being very objective but I will be honest about Karin Slaughter's new novel, Pretty Girls. It's a major work from a major writer currently working in the thriller/cop genre. If I can use a three dollar word, it was mesmeric. She makes James Patterson look like a hack. But wait a minute, James Patterson is a hack.
Her first stand-alone novel, Cop Town, came out last year and was the first book of Ms. Slaughter's that I read. She has two series running, one about Grant County and another featuring one of her characters, Will Trent.
Pretty Girls is another stand-alone. It is not for you if you are a little squeamish or are scared of the dark. This is a psychological thriller of the first order. She writes as well or better than anyone else on the scene. Sometimes her prose slides across the page like a placid brook on a hot summer day and sometimes like a raging pit bull. She can be very aggressive and I find that extremely entertaining.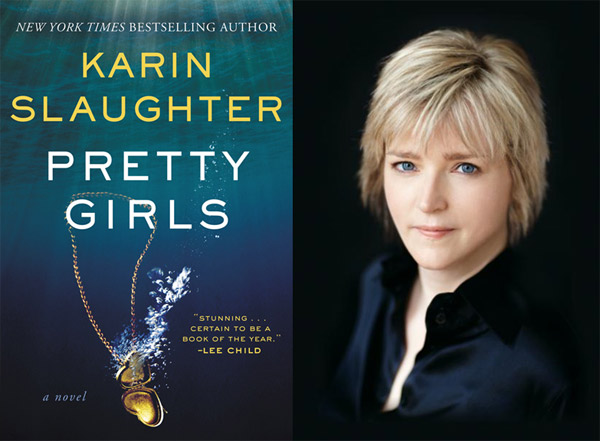 Pretty Girls is about two sisters, Claire and Lydia, who haven't spoken to each other in 20 years since their teenage sister, Julia, vanished without a trace and it tore the family apart. Clair and Lydia are at the opposite ends of every spectrum you can imagine, social, economic, physical appearance, emotional, and psychological. Claire is the country club trophy wife and Lydia the struggling homemaker who dates an ex-con. Then Claire's husband is killed. These two violent crimes in one family bring the estranged sisters together, first in a very strained union and then as full-blown partners. The plot works in the capable hands of Karin Slaughter who makes it believable whereas in the grip of a lesser writer it could turn out morbidly laughable.
The plot moves along like a stealth fighter, smooth and fast. The situation Claire and Lydia find themselves in gets thorny early on in the book. The twists and turns are deliciously sinister and I had a hard time predicting any of the plot movements. Almost every development surprised the heck out of me even though every advance in the plot came out of logical elements that precede them. The villain turns out to be a great bolt from the blue, a foul person with a streak of serial killing, sexual perversion (real nasty too), an exceedingly twisted view of the world, but incredibly believable. The villain is not a cookie cutter character or sympathetic. You hate the character and want to see the them get what is clearly most deserving.
There are elements of redemption and revenge in the book. Claire and Lydia try to put their relationship back together and salve the massive wound that Julia's disappearance caused. Revenge is sweet and a dish best served cold (at least the French think so as the phrase comes from French author Pierre Laclos's novel Dangerous Liaisons.) When it is enacted upon the villain I jumped off the sofa, "I don't believe Slaughter just did that. SWEET!" Totally unexpected.
Any other writer would have copped out on the ending but not Karin Slaughter. It's just huge. I have become a big fan. The book comes out next month. Look for it.
More Slaughter
Karin Slaughter has written a prequel of sorts to Pretty Girls called Blond Hair Blue Eyes, the story of how Julia gets abducted. It stops where Pretty Girls starts and could have easily been the first chapter. Ms. Slaughter's prequel is only available as an E-book and is about the length of a moderately long short story. You don't need to read it to enjoy and understand Pretty Girls.
In Blond Hair Blue Eyes we are witness to Julia's last day of freedom. We discover she is a journalism major at the University of Georgia at Athens; writes for the University newspaper; is obsessed with the supposed attack and disappearance of a number of women in the area; is assigned to write a front-page story on the subject; goes to a bar with a friend; becomes slightly inebriated and decides to walk home alone. That was a big mistake.
You do get all of this info from Pretty Girls as hearsay from the other characters but it is interesting to get it from the source. The writing is luminous and I would recommend this to anyone who plans to read Pretty Girls.