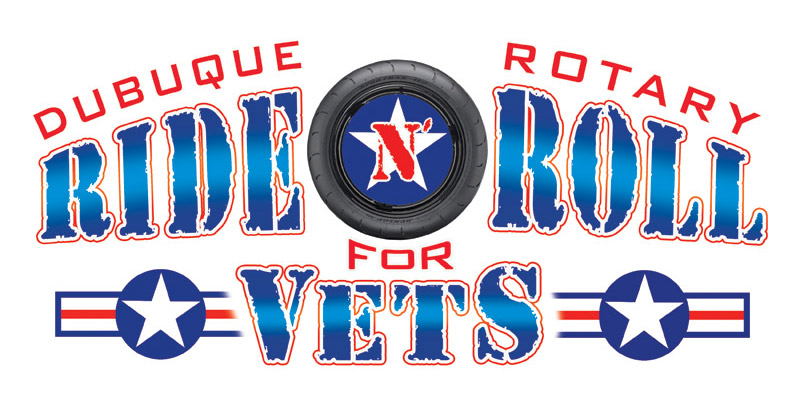 Dubuque Rotary Club's Second Annual Ride & Roll for Vets
Dubuque Rotary Club's Second Annual Ride & Roll for Vets
Saturday, September 26 @ 11 AM–8 PM
Port of Dubuque
The Second Annual Dubuque Rotary Ride & Roll continues on the success of the first year with a bigger better event for 2016. This year the event moves to the Port of Dubuque on September 26 from 11 AM–8 PM, sponsored by the Diamond Jo Casino.
"This event has gained so much momentum from one year to the next, but it is easy to get support for the veterans after they have done so much for us," states Steve Geisz, President of the Rotary Club of Dubuque. "Our community is just awesome the way they step forward and support events like these. From multiple motorcycle and car clubs to local businesses, they do what they can. This year's event has added the motorcycle ride and several pieces of entertainment to keep the crowd interested, not to mention all of the Port of Dubuque attractions to visit".
It is call a Ride & Roll, so let's talk Ride! The route will start at the Port of Dubuque and include stops at Trackside in Peosta, The Bent Rim in Cascade and Off Shore in Bellevue before returning to the Port of Dubuque for some serious fun and great rock and roll. Ride registration is $10 and kickstands are up at noon.
Never fear non-bikers, the FREE fun will be rolling all day long at the Port, even when the ride is away including musical performances by the Dubuque Fire Pipes & Drum Corps as well as the Americana Band from 11 AM–12:30 PM. Steppin' Up DJ follows from 12:30–4:30 PM while the crowd takes in a bean bag tournament and, oh baby… a Backyard BBQ Cook-Off open to all amateurs, and it is only $25 to get in. Cash prizes will be awarded for best ribs and chicken! To register for the BBQ Cook-Off, call 563-213-0098. Pork sandwiches and chips will be donated by several area grocers and suppliers and will be given out with all donations.
We're not done! There's Roll to go along with that Ride. The Port of Dubuque event site will also host another Cruise-In Car Show featuring classic cars from across the tri-state area. Car owners wanting to participate should call 563-556-7020. Head down and check out a host of killer restored rides while you're working off that BBQ.
Once again this year, a $5 raffle ticket gets you a chance to win some seriously sweet swag including a $1000 cash prize, a fridge full of meat and beer, a 50″ flat screen TV, a Virginia Resort Vacation, Flexsteel Leather recliner, a Ladies Bulova Watch, golf packages with apparel, Keg and Karaoke party, gas grills and more. The raffle drawing will take place at 5 PM after the bikes return at 4 PM.
As the afternoon progresses we will end the evening from 5–8 PM with masters of hard rock, Johnny Trash. Watch these guys tear it up for a couple of big sets of 70's and 80's era hard rock from AC/DC to KISS… and probably back to AC/DC. These guys were handmade for the motorcycle crowd.
Proceeds once again benefit the Veterans Freedom Center and Operation We Care. The center offers a place for these veterans to interact with fellow veterans, network together and enjoy the camaraderie that all have shared while proudly serving our country. Housed at the center, Operation We Care supports area veterans and their families that have needs whereby all other means of assistance is not available or have been exhausted including rent or mortgage assistance, transportation, utilities assistance, food and clothing. It also provides refurbished lift chairs, wheelchairs and walkers to the veterans and their families in need.
Al Rowell, one of the co-founders of the Veterans Freedom Center, can't say enough great things about Ride & Roll and the support the center receives from the community. "It allows us to keep going… and it's the only way we can keep going. They stand up for us unbelievably, and we put 100% of every dollar raised in to the center. These people are just so fantastic. It's unreal. It means more to us than anyone could ever imagine."
The big-time event is made possible by event sponsor, Diamond Jo Casino, and a host of great sponsors including: American Trust, Flexsteel Dubuque Operations, Dubuque Anesthesia Services P.C., Theisen's, 7G Distributing, Doland Jewelers, Crescent Electric, Thunder Hills Golf and Country Club, The Dubuque Advertiser, Radio Dubuque, Mr. Quix Printing, Mi-T-M, Silker's Grocery, Conrad Seeding, Dirty Ernies, JET, Freestyle Concrete and Design, Hormel, Fareway, and of course 365ink.