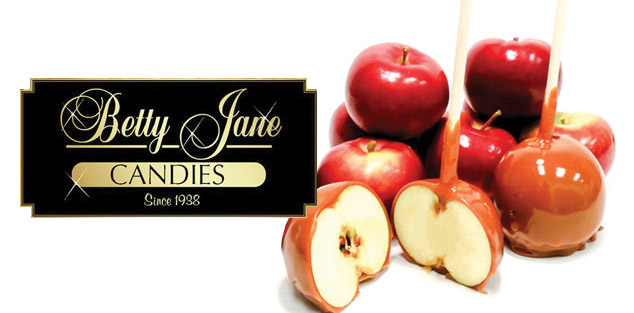 Betty Jane Caramel Apple Season
Betty Jane Caramel Apple Season
by Bryce Parks
If Fall brings the threat of cold weather to come, it also brings to promise of season treats that only come around once a year, at least in the "real" version. And perhaps no Fall treat is more anticipated than the arrival of Betty Jane Candies Caramel Apples.
How do we know this? Well, last week we gave away an awesome $700 electric guitar on Facebook. After 5 days we have hundreds of registrations and 30,000 views of the contest. Then we gave away a $5 Betty Jane's Gift Certificate so someone could get a caramel apple. After 24 hours the apple had three times as many registrations as the guitar and 50,000 views on Facebook. What kind of blind devotion is that? Well folks, that's Betty Jane's.
"They're selling very well right now despite the warmer weather we've had. Once that Fall weather arrives, it just explodes. The apples we receive from the orchard are always great but this year's crop has been exceptional. We've been picking up about 6,000 apples a week to start the season and the size and flavor are always excellent. The orchard does an amazing job, of those 6,000 or so apples we receive from them, we'll get maybe 3 defective apples, just a great product. Pair that with Betty Jane caramel… It's going to be a crazy October."
And the kind of nuts that surrounds the hype is the on;y kind of nuts you'll ver find on a Berry Jane Caramel Apple.
"We don't do anything fancy, mostly because there isn't time based on our volume but no nuts, no frills, just a crisp, tart apple hand spun in our Homemade caramel. Simple but perfect, the way it's always been done here."
"Last year we spun about 56,000 apples. With the apples being ripe earlier this year, it's not unrealistic to think we could top 60,000 apples sold this season. They have a short shelf life of a couple days, so when you come in for them, you can be assured you're basically getting them right out of the kitchen, probably the same day. You can extend the life of your apple a couple of days by putting it in the fridge."
An Betty Jane Caramel Apple is $3.99 and worth every penny. A lot of business use them as gifts and rewards for their employees. There are price breaks from 5-20% based on bulk orders. You'll have to order up 300 or more to get 20% off, but believe it or not, plenty of people do just that.
Caramel apples aren't the only exciting things coming out of the kitchen these days at Betty's Jane's main facility on Asbury Rd. in Dubuque. The legendary Gremlin is now available in bar form. Yes, no more do you have to pick up a single Gremlin and think "are you kidding me, one is not going to be enough!." The new packaging has just come in and starting now, all over Dubuque, you can find a Betty Jane Gremlin Bar when you find all the other less worthy candy bars of the world. It's costs a little more at $1.99, but… come on. It's Betty Jane!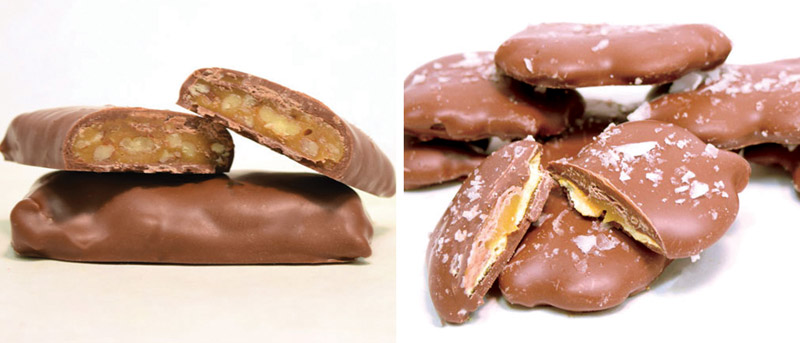 Also new to the lineup is the newest creation, Betty's Bites. They are a crispy pretzel thin, with Gremlin Caramel and coated with milk chocolate and topped with sea salt. I know, right? $13.99 per pound. Just take my money!
And if you want to be decadent but pretend you're healthy, you should try their new Snack Mix. It's a traditional mix of nuts and raisins and such, but with the added kicker of Betty Jane's chocolate covered nuts. Um, yum!
All of this new excitement is a part of big growth and great expectations at Betty Jane's. They also just completed an expansion of their main building to be able to serve more people faster and expand their reach into more locations though partner wholesalers. So don't be surprised to see their most popular goodies in places you've never seen them before, like Hy-Vee for example.
Get more of the scoop on what's new on their website at www.bettyjanecandies.com and, of course, like them on Facebook (www.facebook.com/BettyJaneCandies). But most of all, do yourself a favor, give yourself, and maybe even you loved ones (if they're worthy) a treat and stop in a Betty Jane's this week and take home some Fall flavors for everyone to enjoy… while they last! Then we're going to have to fall back to Betty Jane's Christmas flavors, perish the thought!