Cafe Fraiche
Cafe Fraiche
Argosy's 365ink Food Reviews by Rich Belmont
CAFE FRAICHE

609 East 22nd Street, Dubuque, IA 52001
563-845-0467 • cafefraiche.com
Facebook.com/CafeFraiche
Hours: Thu–Mon: 6 AM–3 PM; Tues–Wed: Closed

Dining Style: French Style Café
Noise Level: Conversational
Recommendations: Eggs Benedict, Breakfast Sandwich, Croque Madame, Crepes, Southern Belle Salad, Build Your Own Burger, Stacked Cordon Bleu, Olive Burger, Chicken Pesto Melt
Liquor Service: None
Prices: Breakfast: $4–$8.75; Lunch: $6.75–$11
Pay Options: Cash, Debit, MasterCard, Visa, Discover, NO checks
Accessibility: Ramp to Front Door and Restrooms
Kids Policy: Menu: Yes; High Chairs: Yes; Boosters: Yes
Reservations: Call Ahead • Catering: No
Take Out: Yes • Delivery: No
Parking: On Street (No Parking Meters)
Dubuque's newest restaurant is called Cafe Fraiche which is French for fresh coffeehouse. This small café is aptly named. It opened on September 3, 2015 with a promise of providing its patrons a fresh ambience, a fresh focus on hospitality and fresh food influenced by French culture.
Cafe Fraiche is located on East 22nd Street at the corner of Queen Street. It serves breakfast and lunch Thursday through Monday and breakfast is available from open to close.
The building itself is a very interesting slice of Dubuque history. It was built in 1900 and is named the A.C. Pancratz Building. Arnold Conrad Pancratz (May 5, 1834–February 5, 1907) operated a grocery at that location for several years. Over the next century the building was home to many retail businesses including a meat market and a vacuum cleaner store.
Cafe Fraiche is co-owned by Patricia Smith and her daughters Kelicia Kelley and Katelyn Meyer and her sonin- law Michael Meyer.
Patricia has been in the hospitality business since she was 13 years old. She started working as a line cook at the Coach House Supper Club on Highway 20 in Dubuque. She went on to cook in several other local restaurants before dropping out of the restaurant industry to become an interior designer. After several years she realized hospitality was her destiny.
Patricia and her first husband James (Goldy) Goldthorpe built the Goldmoor Inn & Dining Resort in Galena, IL from the ground up. Patricia operated the bed and breakfast for 18 years prior to selling it in February, 2015. She did all the cooking for hundreds of wedding banquets catered at the Goldmoor.
Michael is the chef at Cafe Fraiche. He began his restaurant career at age 11. His mom owned a Mexican restaurant called the Rainbow Lounge in Rio, WI. He started out as a dishwasher and learned every aspect of the hospitality trade. He cooked in Applebee's in the Wisconsin Dells and when he moved to Dubuque he was hired on as a cook at Athenian Grill. For the past 5 years he was cooking at Village Inn.
When you enter Cafe Fraiche you know right away there is something special about the place. Patricia's talents as an interior designer are on full display. The fresh ambience is created through the artful use of repurposed furniture and wall pieces, family heirlooms and collectibles. Even the original purple doors from the front entrance are used as the doors to the office across from the restrooms.
The fresh hospitality is provided by the entire staff. This is very much a family business and Kelicia, Katelyn and Michael, as well as all the servers, are so obviously eager to please you. They all appear to be happy to working here and it shows.
The café lives up to its name as a coffeehouse too. The coffee is outstanding. Patricia chose her supplier very carefully. She serves Intelligentsia Coffee & Tea. This company has been roasting coffee for 20 years. It is headquartered in Chicago and uses gas-powered Ideal Rapid GotHot Roasters. These machines date from the 1950's and were handcrafted from cast-iron and steel in Stuttgart, Germany.
There are several egg dishes on the breakfast side of the menu. The Sausage & Eggs is especially good. That's because you can choose either sausage patties or links that have real sausage flavor.
The omelets are made with 3 eggs and you build your own by choosing from several meat, cheese and veggie options. I was pleased to see these omelets are expertly made. They are not runny or dry.
The Eggs Benedict are made with 2 poached eggs and Black Angus smoked ham on French bread smothered with a rich hollandaise sauce.
The Croque Madame (krohk mah-dahm) is a fancy French name for grilled ham and cheese sandwich with a fried egg on top. Here it is distinctive because it is made with Gruyere (groo-YAIR) cheese. This is a cow's milk Swiss cheese first produced in Switzerland and later in France.
The delicious Gruyere used here is actually a fine Wisconsin cheese made by Roth Cheesery in Monroe, Wisconsin. (Fun fact: Roth Käse is owned by Emmi Worldwide Group, the international cheese manufacturer. The name Gruyere is a Swiss government protected name so this cheese when produced in Wisconsin is called Grand Cru and Grand Cru Reserve).
Clearly, the Specialty of the House are the marvelous Crepes. A crepe (krayp) is a thin unleavened griddle cake made with very thin egg batter cooked in a very hot sauté pan. I liken it to a very thin pancake. Chef Mike is without a doubt a Master Crepe Maker. The current menu offers you seven ways to order them. Margie is on a mission to try them all and has had 3 of the Crepe choices so far.
If you like fruit: Peaches and Cream Crepe—cinnamon and cream cheese filling topped with peach sauce, whipped cream and toasted pecans.
Mixed Berry Crepe—filled with Bavarian cream and topped with blueberry, raspberry, blackberry and strawberry sauce and whipped cream. How about on the sweet side:
Nutella Crepe—filled with Italian hazelnut chocolate spread and topped with your choice of strawberries or bananas. Like your crepe vegetarian?
Vegetarian Crepe—sautéed spinach, mushrooms, sun dried tomatoes, red onions and Brie cheese. Maybe a Chicken or Sausage and Egg Crepe: Savory Chicken Crepe—skinless chicken breast and asparagus topped with hollandaise.
Southwest Crepe—scrambled eggs and sausage with onion, green pepper and topped with red pepper coulis and hollandaise.
By the way, did you see this last one is topped with a coulis (koo-lee)? This is a sauce made from a purée of vegetables or fruit. In this case Mike roasts fresh peppers on the char broiler and then adds them to olive oil and garlic. The peppers are potent because the roasting brings out the flavor.
The Burgers are very good. They are one-third pound patties and here again you can build your own by choosing from a list of meat, cheese or veggie options. These can be placed on top of the burgers or you can have up to three ingredients stuffed inside the burger patties. I especially enjoyed my olive burger by requesting Swiss cheese and green olive slices.
The sandwiches are all quite tasty. The French Dip is shaved roast beef and provolone on a nice French baguette. The Stacked Cordon Bleu consists of a French baguette, grilled chicken breast, prosciutto ham and Swiss cheese. I was pleased with my Chicken Pesto Melt: grilled chicken breast with sun dried tomato, spinach, Swiss cheese and pesto aioli (ay-OH-lee). Mike prepared this aioli by combining basil, olive oil, garlic and mayonnaise. The Van Gogh sandwich is also an excellent choice.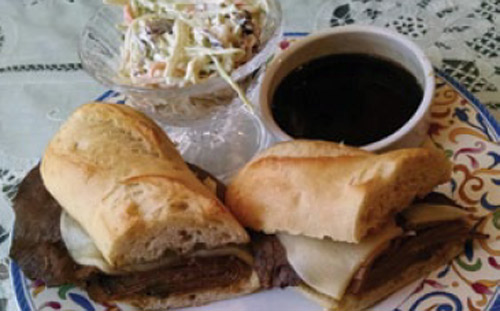 Shaved Black Angus smoked ham, tomato, spinach and a slice of Gouda cheese is smeared with whole grain mustard aioli on sourdough bread. The cheese is Van Gogh brand, classic Dutch style smoked Gouda from Roth Cheesery in Monroe, WI.
All sandwiches are served with potato chips or broccoli slaw or fruit salad. I recommend the slaw. It is made with shredded broccoli stalks in a half cream-half mayo sauce mixed with Lawry's Seasoning Salt, paprika, Vidalia onion vinaigrette and craisins (dried cranberries).
And don't forget my motto: A good meal isn't over until you have had a satisfying dessert! Cafe Fraiche always has an assortment of treats such as cookies, scones, chocolate croissants (kwaa-SAHNTS), cupcakes or muffins baked right on the premises!
Do you have a favorite restaurant you would like to see reviewed? Please send your requests, suggestions and comments to Argosy at argomark@mchsi.com.