While some camps are already filling up quickly, making it necessary to assemble this feature for you immediately, some camps are not yet finalized. In our April 15 issue, we will include details for camps offered by Clarke University and Northeast Iowa School of Music if we have the information at that time. Additionally, we will post the updates online as soon as they come in. We're extremely pleased to see so many camps coming back strong for 2021. Most will have COVID-19 safety precautions in place, but the fun is all there. So let's get to it. We have a LOT to share!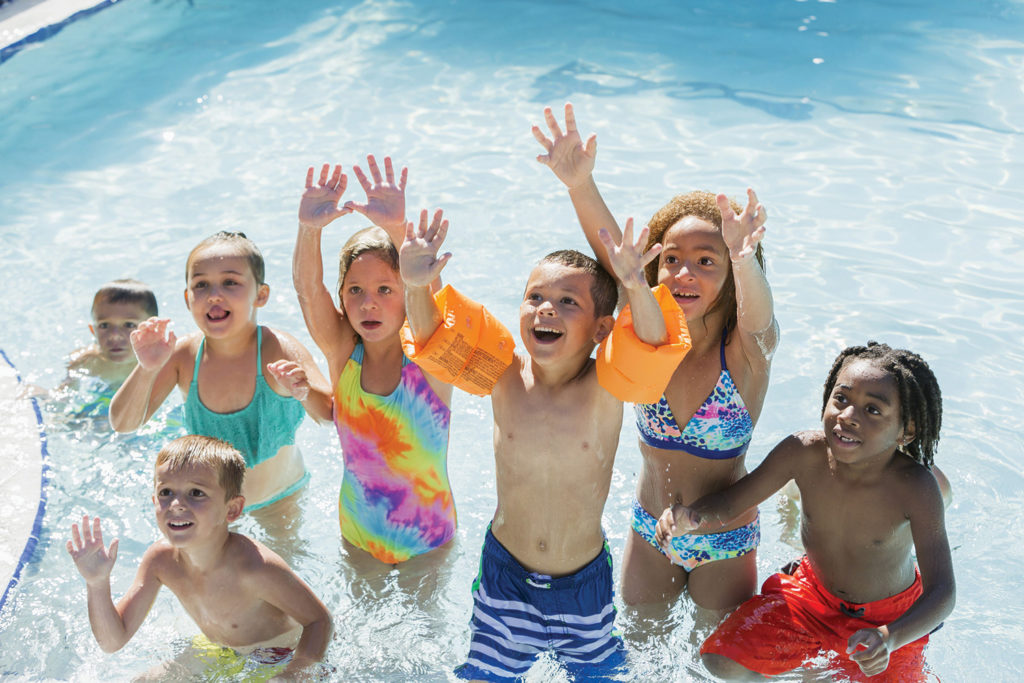 City of Dubuque Leisure Services
563-589-4263
cityofdubuque.org/recreation
For all of the amazing programs available to area youth, it's hard to hold a candle to the offerings presented by the City of Dubuque's Leisure Services Department, and after a most difficult summer of 2020, things are safely back on track for a season full of kids being active and learning while school is out of session. They offer a range of creative classes, FREE neighborhood programs, youth sports, swim lessons, golf instruction, Bee Branch nature programs, and other programs available to Dubuque families as the cornerstone of youth activity in our community. Kids recreation classes from Leisure Services cover the gamut and then the gamut beyond that. In fact, we counted more than 100 different titles for classes and activities offered! The selection is simply stunning. There is truly something for everyone through offerings from a great variety of experienced instructors and partnerships with groups like ISU Extension, Montessori School, Dubuque County Conservation, and many more.
There's way more for kids to do this summer than we have room for here, and you can usually get the full list in the new City of Dubuque Leisure Services Summer Activities Brochure. But with the need for fluidity in the program as we carefully come back from COVID-19 protocols, things are a bit different this year. They we will have a brochure this summer, but it will be very cut down, focusing on neighborhood supports and important facilities such a pool information. The best places to see the most current program information will be on the website as well as through the city's Facebook posts and email blasts. A print version of the brochure will be available at area venues like the Leisure Services office, Carnegie-Stout Public Library, and City Hall. Like the City of Dubuque on Facebook (@CityOfDubuque) and sign up for Notify Me alerts through the city's website at CityOfDubuque.org.
The City also provides kids an opportunity to have fun and get some outdoor exercise at our parks and two municipal pools. Flora and Sutton Pools open on Saturday, May 29 for the 2021 season. Both venues have wonderful water-related amenities like slides and fountains and a host of pool sizes. Admission under 18 is $2 (free under 4), which is some pretty cheap entertainment.
The City of Dubuque Leisure Services Department offers scholarships for low-income qualifying families living in Dubuque to pay for swim passes, general recreation programs, pavilion rentals, and other services provided through the Leisure Services registration system. Complete and return the Income Verification form, available at the Leisure Services Office at 2200 Bunker Hill Rd., or the Multicultural Family Center at 1157 Central Ave. or download it at CityOfDubuque.org/recreation. Special population activities are also offered but not limited to mentally and physically disabled individuals. Registration is requested one week before a program's start date.
Carnegie-Stout Public Library
360 W 11th St
563-589-4225 x2228
CarnegieStout.org
As always, the Carnegie-Stout Public Library is a hub for fun summer learning and activities for kids of all ages. Coming out of COVID-19 hibernation, the plans for a full slate of summer activities are still coming together, but rest assured, there will be a multitude of enjoyable learning activities offered this summer. You won't want to miss the Summer Reading Program "Reading Colors Your World" from June 7 to Aug. 13, featuring weekly performers, grab-and-go activities, young adult programs, and weekly virtual storytimes. Watch CarnegieStout.org for updates and the complete summer schedule!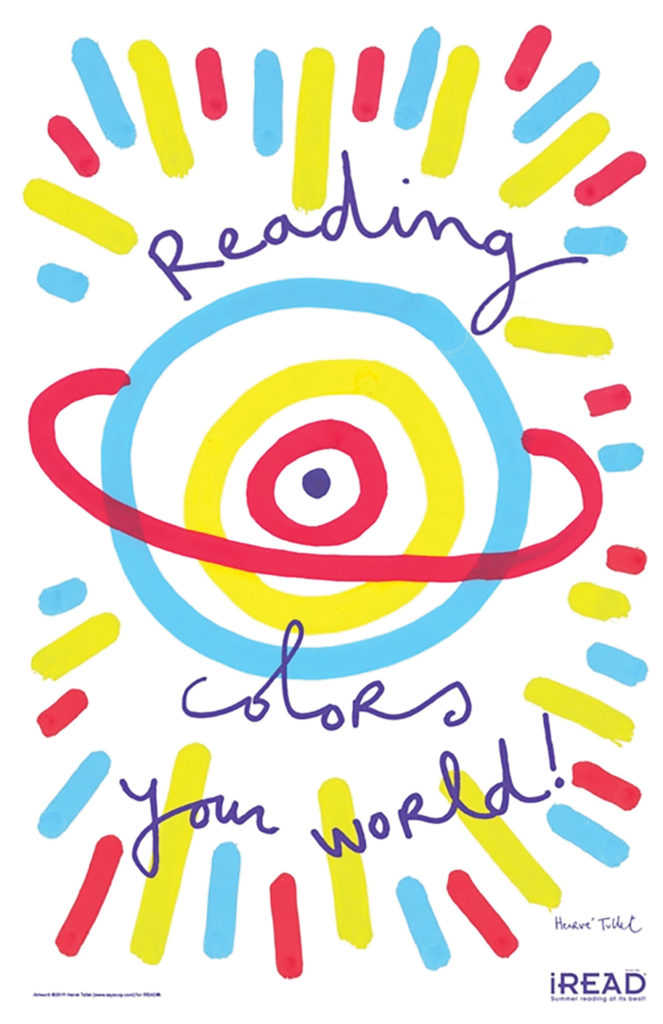 Dubuque County Library
DubCoLib.org
Asbury: 5290 Grand Meadow Dr; 563-582-0008
Farley/Drexler Middle School: 405 3rd Ave NE; 563-744-3371 x5160
Epworth: 110 Bierman Rd SE; 563-876-3388
Holy Cross: 895 Main St; 563-870-2082
NICC/Peosta: 8342 NICC Dr; 563-556-5110 x224
We've collected just a sampling of Dubuque County Library's programs for summer 2021. Check their website after May 1 to register and see what else your library is up to this summer! All programs require registration, as many are virtual or limited in space in person and outdoors, and deadlines vary.
Summer Reading Program: Reading Colors Your World
June 14–Aug 7
Read books and you could earn prizes!
Circus Variety Show: Martika Daniels
June 16 @ 11 AM
Sword-swallower, fire-eater, daring escapist, and international woman of mystery, Martika is an expert performer who aims to bring the highest quality entertainment to a stage near you.
Kids
Kids' Art Club
Age: Grades K–3
Mondays @ 1 PM
Learn about a different type of art each week and complete your own art project.
Animals of the World
Age: Grade K+
Tuesdays @ 1 PM
Journey to each continent and learn about the amazing animals that live all around the world, followed by a craft each week.
Fairy Tale Club
Age: Grade K+
Wednesdays @ 1 PM
Visit countries around the world through fairy tales and folktales. Read the story, then do a craft to go along with it.
Culture Club
Age: Grades 2–5
Thursdays @ 1 PM
Learn about different countries and cultures around the world, with crafts, activities, and recipes each week.
Story Starters
Age: Grades 2–5
Fridays @ 1 PM
Settle in at home with drawing or painting supplies, Legos or blocks, or something else to keep your hands busy. Or simply lean back and listen as Miss Kayla reads a chapter or two from a different book each week.
Teens+
Colors Around the World
Age: Grades 6–12
Join the DCLD to learn about culture, food, and the importance of colors on every continent.
Crafting the Continents
Age: Grades 6–12
This craft program will focus on an art form from a different continent each week.
Wreck This Journal
Age: Grades 6–12
Inspired by the Wreck This Journal book series, teens will interact with art, their environment, and their own minds each week.
Armchair Travel
Age: 16+
Always wanted to visit the Louvre but just haven't had the time? Join DCLD weekly for virtual visits to museums, stories about travels, and other interesting tidbits about the world.
Book Club
Age: 16+
This biweekly book club will focus on titles written by authors from around the world.
How Does Your Garden Grow?
Age: 16+
Join the DCLD weekly as local gardening experts share their knowledge about everything from bees to garden design.
Dubuque Community YMCA/YWCA
563-556-3371
DubuqueY.org
The Dubuque Community YMCA/YWCA Union Park Day Camp has a strong emphasis on enjoying nature and being active in the outdoors. Camp helps each child develop environmental awareness while learning camping skills and providing enjoyable activities that promote individual growth in areas of self-esteem, responsibility, communication, independence, leadership, and Christian values of caring, honesty, respect, and responsibility.
Group activities, depending on age and level, include archery, arts and crafts, black hole, hiking, crate climbing, games, songs, Kangaroo Jumper, swimming, zipline, rock climbing, and GaGa ball.
Traditional Day Camp
Age: 6–14 (Must have completed Kindergarten)
Week-long sessions: June 7–Aug 13
Union Park
Cost: $159 member; $179 non-member
Each session is designed specifically for each age group to ensure an unforgettable experience. Campers are assigned to groups based on age to ensure age and skill level appropriate activities. Special themes will be held each week. Age groups include Challengers (6–7), Adventurers (8–10), and Explorers (11–14). Camp now includes busing to camp and back to the Y each day, lunch, and two snacks daily.
Mountain Bike Camp
Age: 6–14 (Must have completed Kindergarten)
Week-long sessions June 7–June 18
Union Park
Cost: $179 Member; $199 non-member
Campers will spend the whole day at camp, taking part of the total Y Camp experience. Following the same camp schedule, this program will break off for three hours of biking daily. Dress to ride a bike and bring a water bottle. Camp now includes busing to camp and back to the Y each day, lunch, and two snacks daily.
Horse Camp Adventure Training
Age: 6–14 (Must have completed Kindergarten)
Week-long sessions: July 7–July 30
Union Park
Cost: $249 member; $269 non-member
Horse camp is a one-week progressive program offering three levels of expertise. Participants will spend the whole day at camp. Following the same camp schedule, this program will break off for three hours of training daily. Wear jeans and either old tennis shoes or boots, and bring a water bottle. Camp now includes busing to camp and back to the Y each day, lunch, and two snacks daily.
Beginner is for those with little to no riding experience. Campers are taught grooming, riding skills in the arena, basic horse anatomy, and saddle parts.
Intermediate children have passed the beginner level, have had previous riding lessons, and/or they have wrangler approval. Campers will be responsible for saddling and grooming their own horse, ring-riding skills will be reviewed, and trail-riding skills (weather permitting) will be learned.
Advanced campers passed the intermediate level and/or have wrangler approval. Participants will be responsible for all aspects of caring for their horse including rounding up, feeding, grooming, and saddling. Students will spend time on advanced riding skills, trail riding (weather permitting), and program-related games.
May Days at Camp
Age: 6–14 (Must have completed Kindergarten)
Saturdays: May 1–22 @ 8:30 am–4:30 pm
Union Park
Cost: $29 Member; $39 non-member
Each day kids will do group activities, depending on age and level, include archery, arts and crafts, black hole, hiking, crate climbing, games, songs, Kangaroo Jumper, swimming, zipline, rock climbing, and GaGa ball. Includes lunch and snack.
Dubuque Y Youth Sports, Gymnastics, and Swim Lessons
4- and 8–Week Programs
The Dubuque Community YMCA/YWCA strives to provide a quality experience for players, coaches, and families to help promote the development of each athlete to reach their highest potential through skill refinement, teamwork, and sportsmanship. Monthly sport offerings include preschool programs for ages 3–5, youth programs for ages 6–8, and teen programs for ages 9–12. Additionally, they have 7-week programs in gymnastics that focus on skill progression and improvement. Make new friends, be active, and learn to love a sport at the Y.
The Dubuque Community YMCA/YWCA provides twice a week lessons on Monday and Wednesday or Tuesday and Thursday for four weeks allowing for eight 45-minute lessons. In a four-week period, kids progress a lot faster and have seen great improvement. Swim lessons start as young as 6 months and progress to 12 years old. Lessons are offered for adults as well.
Holy Family Catholic Schools
2005 Kane St
563-582-5456 x289
admissions@HolyFamilyDBQ.org
HolyFamilyDBQ.org/summer-camps
Holy Family summer camps are brought to you by the coaches, staff, teachers, and directors of award-winning programs at Holy Family Catholic Schools. These camps are designed to stretch your child's imagination and creativity, shape team-building skills, and teach and reinforce fundamentals for various academic, art, and athletic activities. Whether your child attends one or many of the camps, they're sure to enjoy the experience! Camps are open to all Dubuque area youth!
Camp fees range from $30–$175 with most below $75, and scholarships are available. Registration begins March 22. Submit completed registration forms and payment to any Holy Family office. The website for these camps is very thorough. Be sure to check this resource for detailed info and answers to your questions.
Arts & Culinary Camps
Art Attack, Culinary Arts
Athletic Camps
Boys Basketball Camp/League, Girls Basketball Camp, Cheerleading Camp, Dance Camp, Football Camp, Soccer Camp, Strength and Conditioning Camp, Tennis Camp, Track and Field Camp, Volleyball Camp
Language And Literacy Camps
Harry Potter Camp, Literacy Skills Refresh and Reboot, Literacy Camp with Clarke University, Percy Jackson: Camp Half-Blood, Spanish Language Camp
Leadership Camps
Babysitting, Care Camp: Service to Self and Others
Preschool/Pre-K Camps
Artful Antics, Let's Blast Off!
STEM Camps
3D Printing Workshop, Code Camp—JavaScript, Fizz Bubble Goo, Fun with Bots, Robotics Programming Camp—Basic, Robotics Programming Camp—FTC, Soil and Smiles, To Infinity and Beyond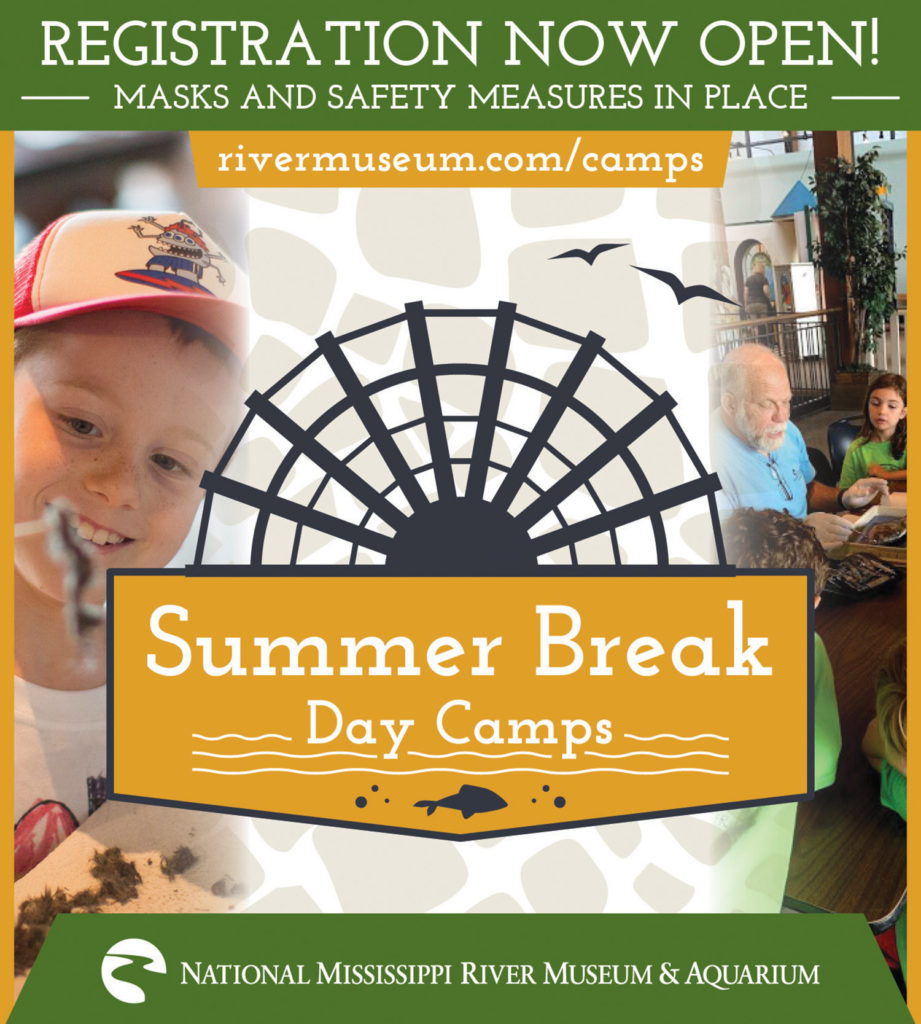 National Mississippi River Museum & Aquarium
350 E 3rd St
563-557-9545 x213
RiverMuseum.com/summercamps
Throughout the summer, campers are invited to join expert educators in an exploration of history, science, and wildlife at the National Mississippi River Museum & Aquarium. Summer has never been so fun! Scholarships available as is wrap-around care.
Next Level Overnight Adventure Camps
Age: Entering grades 6–8
July 22 @ 9 AM–July 23 @ 4 PM
Cost: $150 Member; $180 Non-Member
Become citizen scientists through firsthand interaction with the River Museum's freshwater mussel propagation, fishing, and paddling right outside in the Ice Harbor! Track monarch butterflies, and talk about bees, insects, and mayflies. Campers will sleep overnight among the aquariums and take part in other behind-the-scenes adventures. Breakfast, lunches, and dinner are included.
Kinder-Kamp: Animal Friends
Age: Entering Kindergarten
June 21–25 or Aug 2–6 @ 9 AM–Noon
Cost: $100 Member; $115 Non-Member
Prepare to enjoy animals of all shapes and sizes from around the world through this year's Kinder-Kamp! Campers will encounter live animals and their habitats, explore nature, make crafts, and experience the underwater world of the newest exhibit, Splash and Bubbles!
Wildly Creative Camp
Age: Entering grades 1–5
June 28–July 2 @ 9 AM–4 PM
Cost: $200 Member; $240 Non-Member
How is the color blue formed? What materials are used to create paint? Much of art's history comes from nature and science. During this session, campers will investigate the history and evolution of how a variety of art forms were created. Then they will discover how animals use creativity in the form of communication. This is a week of bringing out a camper's inner Picasso through making paint, building crafts, and creating beautiful pieces of art.
Crazy Creators Camp
Age: Entering grades 1-5
July 12–16 @ 9 AM–4 PM
Cost: $200 Member; $240 Non-Member
Inspire your inner maker and scientist during this week of discovery and innovation! Each day, campers will solve challenges using basic materials, tips from world-famous inventors, and their minds. Learn about famous inventors and how their "crazy" inventions changed the world. Campers will experiment with designing and bringing their great ideas and inventions to life. Utilize our brand new River of Innovation exhibit and makerspace during camp!
Jr. Keepers: Ambassador Animals Camp
July 19–23 @ 9 AM–4 PM
Cost: $200 Member; $240 Non-Member
One of the River Museum's most popular camps is back but with a twist! Campers will explore the world of animal care by discovering how to manage animal diets, animal habitats, animal enrichment, and other husbandry practices. By the end of the week, campers will help the museum's educators lead an ambassador animal presentation for visitors.
Gone Fishin' Camp
July 26–30 @ 9 AM–4 PM
Cost: $200 Member; $240 Non-Member
"Hook, line, and sinker" isn't just a saying, it's all about fishing! Campers will fish, learn about their catch, and explore the proper equipment needed to catch the BIG ONE. Explore fishing techniques of the past and present and how fishing has evolved. From finding your own bait to cooking the fish you catch, it'll be a week of all things fish.
Loras All-Sports Camp
563-588-7053
sports.camp@loras.edu
LorasAllSportsCamps.com
Age: 7–14
Session 1: June 20–25
Session 2: June 27–July 2
Session 3: July 11–16
Session 4: July 18–23
Cost: $685 (2nd child $660) Resident; $505 (2nd child $480) Day Camper
Registration is now open. Contact the camp office for available activities. Some are full and have a waiting list.
The unique and highly-rated All-Sports Camp offers boys and girls in grades 2–8 an opportunity to receive intensive instruction in a major sport along with training in two additional minor sports of their choice. All of this takes place in an atmosphere that stresses Christian values, sportsmanship, and citizenship. Campers enjoy Loras College's athletic and dining facilities, and resident campers get a taste of college dormitory living.
Forty-plus sports available in the camp include aerial dance, archery, adventure challenge (ropes course), badminton, baseball, basketball, biking, bowling, cheerleading, cross country running, jazz dance, diving, figure skating, fishing, football, golf, gymnastics, horseback riding, ice skating, karate, kayaking, canoeing, dragon boating, paddleboarding, lacrosse, lawn games, pilates/yoga, rock climbing, roller-skating/blading, rugby, soccer, softball, sports performance, swimming, tennis track and field, trapshooting, ultimate frisbee, and volleyball. Wow!
Activities will be assigned based on the date and time of your registration—not by the time you entered your activity choices. There is a waitlist for residential campers. Roommates at camp can be no more than one grade different. Their website is fantastic and full of details.
Four Mounds
4900 Peru Rd
563-557-7292
FourMounds.org
Adventure Day Camp
Age: 7–13
Mon–Fri: June 14–Aug 6 @ 9 AM–4 PM
Cost: $145; free to income-qualifying families living in Dubuque
A week-long adventure takes place in four great locations across Dubuque. Activities include the Four Mounds challenge ropes course; canoeing at the Mines of Spain; ecosystem adventures at Swiss Valley Nature Center and EB Lyons Interpretive Center; and swimming, creek stomping, hiking, team building, games, and arts and crafts.
Children are required to bring a sack lunch. All other supplies and safety equipment are provided by the camp including life vests. Convenient pick-up and drop-off locations are offered at Fulton School and Allison-Henderson Park, and before- and after-care is available, extending hours from 8 a.m. to 4:30 p.m. Four Mounds maintains a high staff to camper ratio of at least one staffer for every five campers.
Children may register for one week only. Registration starts soon through Leisure Services at the City of Dubuque (563-589-4263). Camp is free if you are an income-qualifying family and live in Dubuque.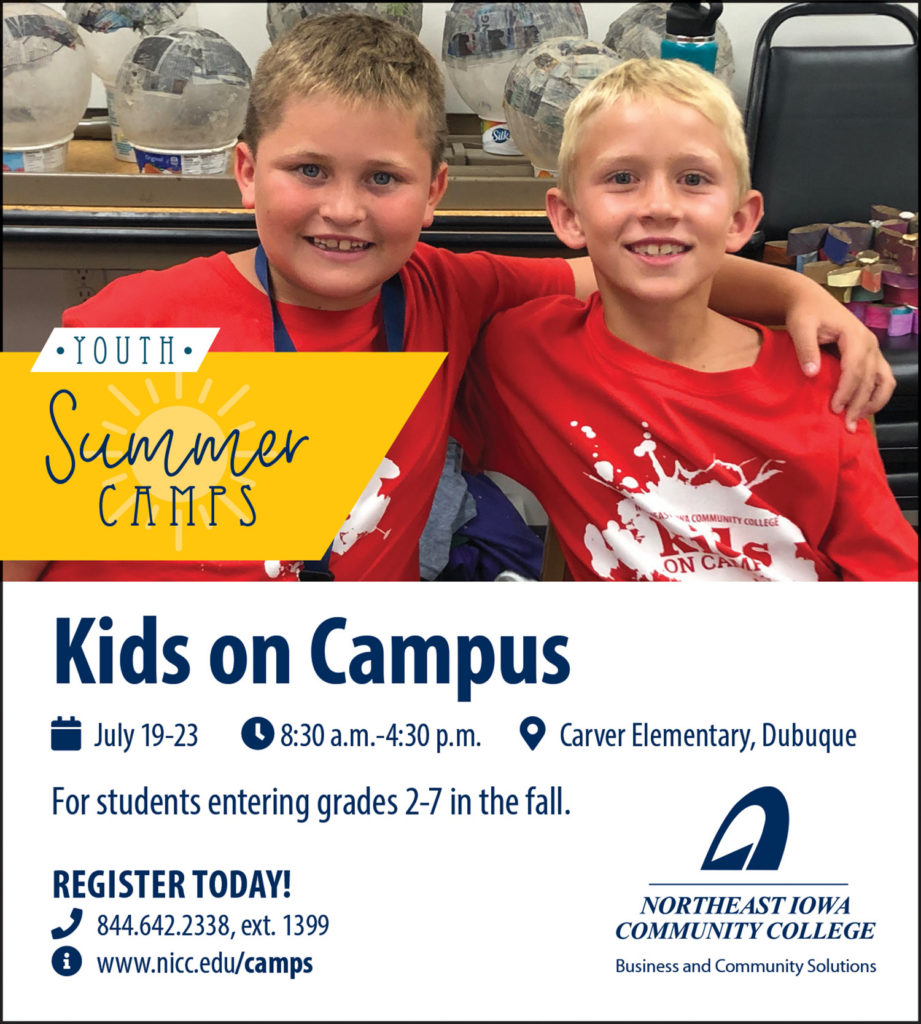 NICC Kids on Campus
NICC Peosta Campus
8342 NICC Dr, Peosta, IA
563-557-8271 x380
NICC.edu/camps
Age: Entering Grades 2–7
July 19–23 @ 8:30 AM–4:30 PM
Cost: $225
Your kids won't stop talking about the fun classes and crazy experiments they will participate in during this week-long camp. Classes introduce kids to new ideas and concepts in a fun and interactive way. Kids on Campus provides a positive, creative learning environment everyone will enjoy!
Students are dropped off at the Northeast Iowa Community College Peosta campus starting at 8 a.m. daily, and camp ends by 4:45 p.m. Camp fees, supplies, snacks, and lunch for the week are $225 per camper. Participants are asked to select four sessions on the registration form to attend throughout the week. Check out all the choices!
For grades 2–4, sessions include Fun in the Sun, Insect Safari, Kids & Critters, KOC Cheer & Dance Team, To the Rescue, Weather, Cool Chemistry, CSI, Trash to Treasure, Filmmaking, Cupcakes, Cookies & Kids, and 3D Doodler.
For grades 5–7, sessions include 3D Printing, Filmmaking, Frogs, Snakes & Other Slimy Things, Fun in the Sun, Rube Goldberg Machines, Outdoor Adventure, The Art of Getting Creative, Brush Lettering, Create a Video Game with Bloxels, Lego® Robotics, Cool Chemistry Level 2, and Escape Room.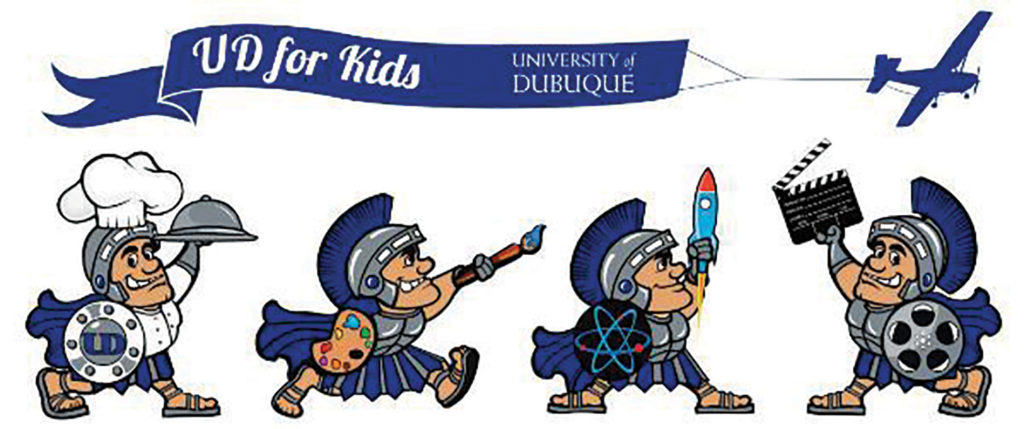 UD for Kids
www.DBQ.edu/udforkids
UDKids@dbq.edu
Age: Completed Grades 1–2
June 21–25
Age: Completed Grades 3–4
June 28–July 2
Age: Completed Grades 5–7
July 12–16
Cost: $125
UD for Kids is a summer enrichment opportunity going into its 29th year for all students who have completed grades 1–7. Students will build reading and math skills while taking courses in the areas of science, math, engineering, visual and performing arts, aviation, and culinary arts.
To participate in the program, complete the online application by April 10. The student fee must be paid at the time of class registration on April 17.
Check out these great class titles: Cookie Crazy; Hocus Pocus—It's Magic; I'm Loving It… Art That Is; Let's Explore Art; Ratatouille's French Café; Science Olympiad; Games of the World; Acting: On and Off Stage; Cupcake Bake-Off; Now You See It, Now You Don't; Aviation; Dream Weaver; Pasta Perfection; Environmental Explorations; and What's the Verdict.
The safety of students attending UD for Kids is of high priority. With that in mind, COVID-19 precautions will be taken as necessary. This will include the wearing of masks, social distancing, and limiting class sizes.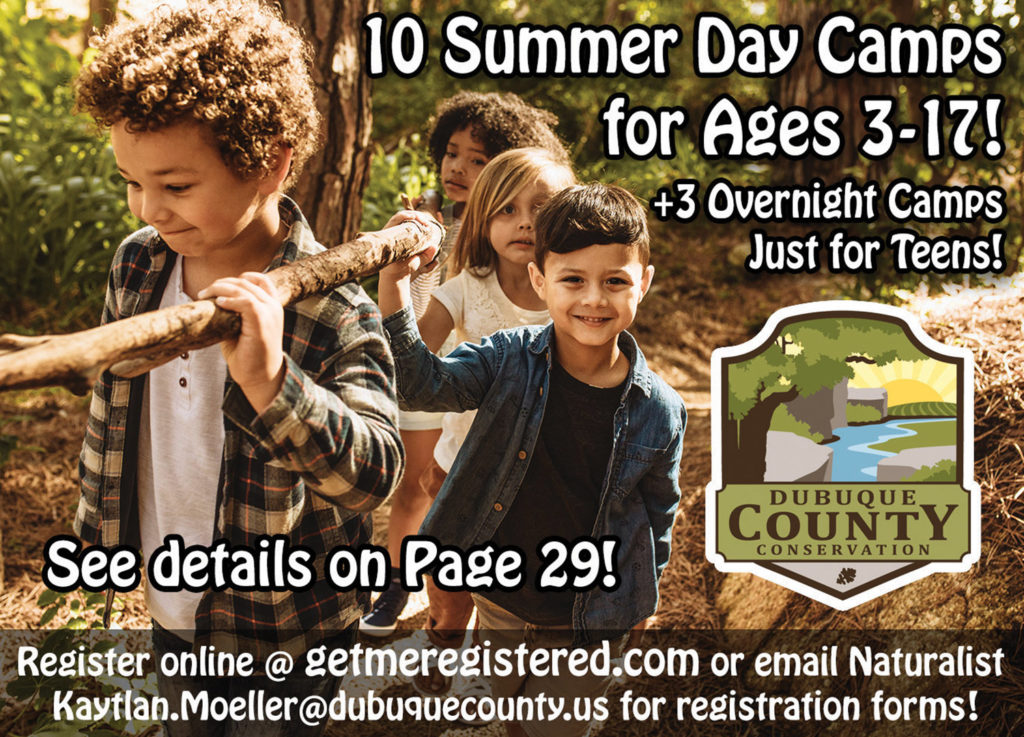 Dubuque County Conservation
Swiss Valley Nature Center
13606 Swiss Valley Rd, Peosta, IA
563-556-6745
DubuqueCounty.org/conservation
The Conservation Board's camps tend to fill up quickly. Follow Swiss Valley Nature Center on Facebook to keep up with all the summer programming! Call to be put on a waitlist for full camps. Register at getmeregistered.com or naturalist Kaytlan.moeller@dubuquecounty.us can email you registration forms.
Toddling Into Nature: Mickey Mouse Clubhouse
Age: 3-4
Session 1: June 9–10 @ 9–11 AM
Session 2: July 26–27 @ 9–11 AM
Cost: $10
Come hang out with Mickey Mouse and his friends at their temporary clubhouse, Swiss Valley Nature Center, as they head off to explore. Adults must stay with children.
Sapling Camp: Fairies and Gnomes
Age: 5–6
Session 1: June 14–15 @ 9 AM–Noon
Session 2: July 28–29 @ 9 AM–Noon
Cost: $15
Search for fairy houses and gnome hideouts in enchanted forests and ponds.
Maple Camp: Scooby-Doo
Age: 7–9
Session 1: June 23–25 @ 9 AM–2 PM
Session 2: August 2–4 @ 9 AM–2 PM
Cost: $25
Scooby-Doo and the gang need your help to explore and solve the invasive species mysteries.
Nature Collectors Camp
Age: 6–8
Session 1: July 15 @ 9 AM–2 PM
Session 2: July 22 @ 9 AM–2 PM
Cost: $10
Hunt and collect treasures from rocks, fossils, feathers, driftwood, acorns, and more.
Oak Camp: Wild Edibles & Food Cycle
Age: 10–14
July 19–21 @ 9 AM–2 PM
Cost: $50
Participate in harvesting, preparing, and cooking with wild edibles, and turn them into a delicious meal at Convivium Urban Farmstead. Then spend a day learning how to manage the waste that is left over at the Dubuque Landfill and Wastewater Treatment Plant.
Explore Your River Camp
Age: 10–14
Session 1: June 16–17 @ 8 AM–3 PM
Session 2: June 30–July 1 @ 8 AM–3 PM
Cost: $50
Join naturalists on beginner-friendly rivers with kayaks and have water fun!
Golf Camp
Age: 10–17
July 6–7 @ 9 AM–2 PM
Cost: $50
Individual and group instruction, course play, skill challenge games at Fillmore Fairways, and more. Campers will also be building their own mini golf course. Gear provided.
Adventures at Heritage
Age: 10–14
July 8 @ 9 AM–2 PM
Cost: $15
Bike, kayak, and more. Please pack a lunch and bring your own bike and helmet.
Buzz like a Bee Camp
Age: 8–12
Session 1: June 22–23 @ 9 AM–2 PM
Session 2: June 28–29 @ 9 AM–2 PM
Cost: $50
Come be part of the hive, playing games and learning what it really means to be as busy as a bee. Talk to a real beekeeper for a chance to see a hive up close.
Hunters Safety Camp
Age: 11+
July 6–8 @ 9 AM–2 PM
Cost: $50
Participants gain extensive hands-on instruction on firearms, fishing, and many other outdoor skills including learning about camouflage, gun-carrying techniques, shot sizes, decoys, archery, animal calls, and more! Participants will shoot a .22-caliber rifle and a 20-gauge shotgun. They will also earn their Iowa DNR Firearms Safety Certificate.
Overnight Summer Camps
Mississippi River Voyageur Paddling Trip
Age: 12–17
August 9–11
Cost: $50
Spend two nights and three days paddling the mighty Mississippi aboard 10-passenger voyageur canoes! This trip will involve paddling with camping gear, cooking over camp stoves, and sleeping on sand bars along the river. A mandatory pre-trip meeting is set for Aug. 6.
Ice Age Backpacking Trip
Age: 12–17
July 12–15
Cost: $75
Explore Wisconsin's Ice Age Trail on a three-night, four-day backpacking trek! Discover what it is like to carry your possessions on your back, filter water, sleep in a tent, and more. A mandatory pre-trip meeting is set for July 9.
Roughen' It Camp
Age: 13–15
July 12–13
Cost: $40
Have you ever wanted to sleep under the stars and cook your meals over a fire? Do you have basic camping skills or wish to learn them? If, so then this camp is a perfect fit for you! Participants will be canoeing down the Mississippi River and camping on the sand!
Frogwarts School of Wizardry
Camp Little Cloud
21700 Girl Scout Rd, Epworth, IA
563-542-5452
Frogwarts.org
Session 1: July 4–10
Session 2: July 11–17
Cost: $550/session (2nd child $450; 3rd child $275)
Now in its 19th year, Frogwarts is a role-play creativity overnight camp originally inspired by the Harry Potter series by J.K. Rowling. With a richly creative and social-emotional learning curriculum, the camp invites all participants to play in-role, sustaining a fantasy character for an entire week. All attendees, staff included, take on a role-playing wizard persona. This year's theme is "Creative Courage and Daring Determination."
A magical aspect of Frogwarts that sets it apart from other summer camps is the development of a story, dramatized in real time by campers, staff, and guest artists. Students use their critical thinking, imagination, and role-play skills in the drama, which is designed to guide them through a process of questioning good versus evil and right versus wrong, to the triumph of compassion, creativity, courage, justice, and fun! Frogwarts enriches the lives of youth by providing a memorable experience that cultivates their creative, emotional, and imaginative intelligences. In addition to critical thinking and literacy skills, the program provides experiential training in empathy and compassion through drama.
A non-refundable deposit of $100 due with registration. Scholarships are available. Wizards who were seniors last summer and would otherwise have "aged out" will be allowed to participate as campers in 2021.
Hoof It Goat Camp
616 S Devil's Ladder Rd, Galena, IL
563-663-6944
HoofIt-Galena.com/kids-camp
Age: 5–12
Session 1: June 22–24 @ 1–4:30 pm & June 25
Session 2: July 6–7 @ 1–4:30 pm & July 9
Cost: $250
Explore everything about goats through daily care and chores, fun activities, and arts and crafts. Learn about the surrounding land, what animals inhabit it, and how to tell the difference between animal tracks.
Activities and crafting projects will vary but may include making animal track molds, best goat selfies, wooden jewelry/key chain making, goat painting (actually paint on a goat!), scavenger hunts, and, of course, goat trekking. As a conclusion to Goat Camp, Hoof It invites campers and their families for a bonfire with s'mores the Friday after their camp.
A maximum of 12 campers will be allowed per session with a minimum of 6.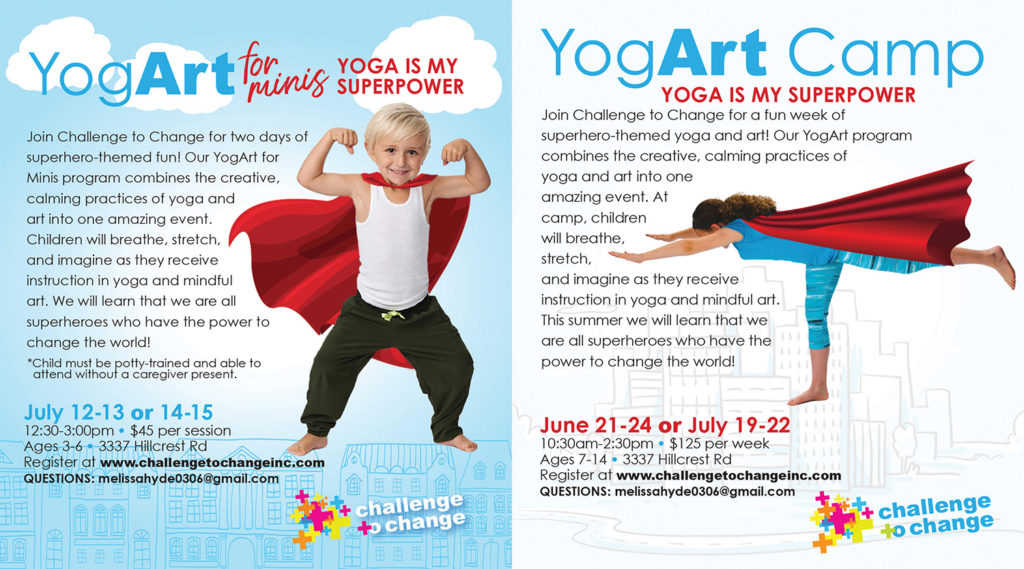 YogART Camps
Challenge to Change
3337 Hillcrest Rd, Suite B
ChallengeToChangeinc.com/studio
Yoga Is My Superpower
Ages: 7–14
June 21–24 or July 19–22 @ 10:30 AM–2:30 PM
Cost: $125
Yoga Is My Superpower for Minis
Age: 3–6
July 12–13 or July 14–15 @ 12:30–3 PM
Cost: $45
Challenge to Change's superhero-themed summer YogART camps combine the creative, calming practices of yoga and art into one amazing event. At camp, children will breathe, stretch, and imagine as they receive instruction in yoga and art. This summer we are all superheroes who have the power to change the world!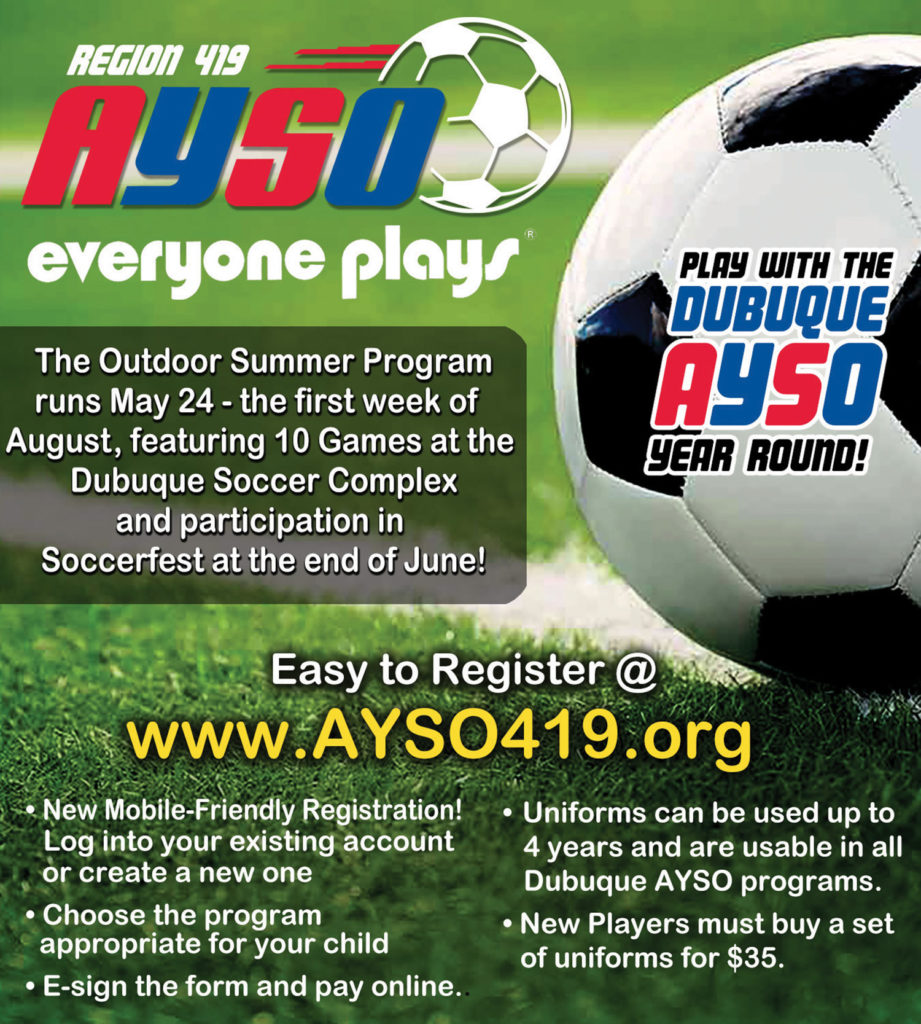 Dubuque AYSO Youth Soccer
AYSO419.org
May 24–Aug 7
The Dubuque Region 4019 of the American Youth Soccer Organization's Outdoor Summer Program runs May 24 through the first week of August, featuring 10 games at the Dubuque Soccer Complex and participation in Soccerfest at the end of June. Everyone plays! To participate, log into your existing account, choose the program appropriate for your child, e-sign the form, and pay directly online via a new mobile-friendly registration. Uniforms can be used up to four years and are usable in all Dubuque AYSO programs. New players must buy a set of uniforms for $35.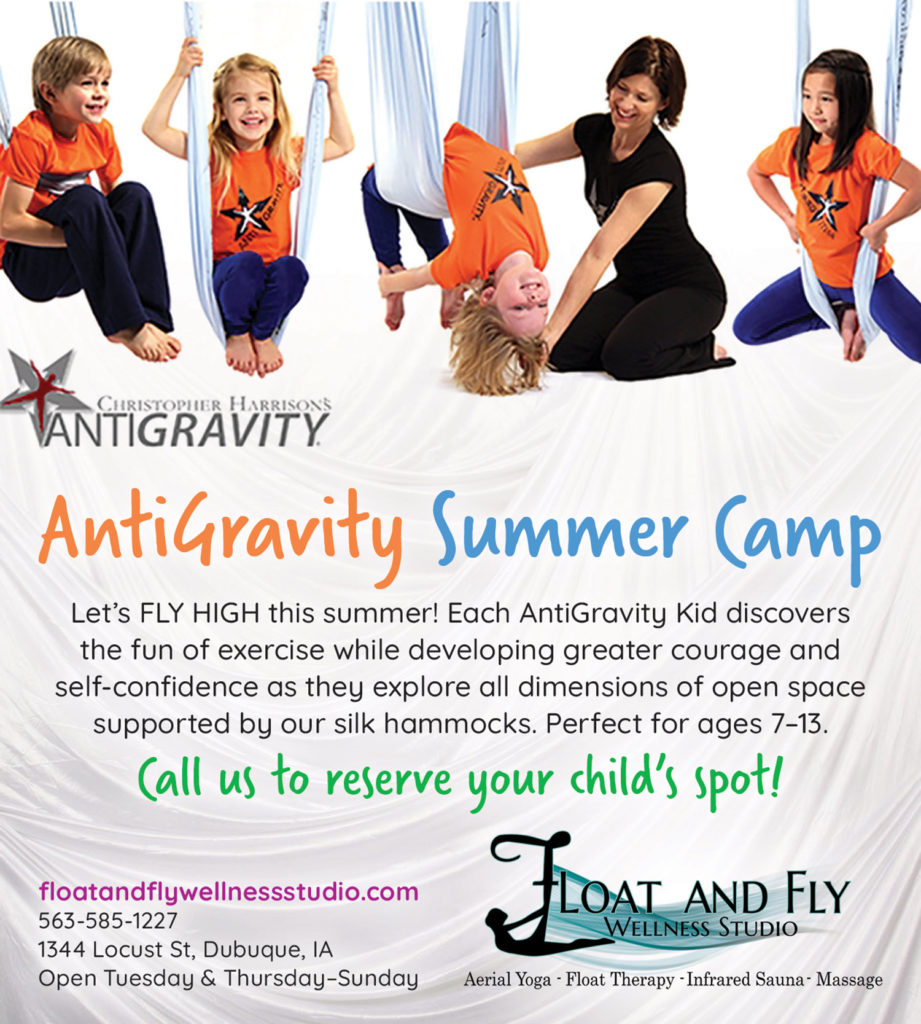 AntiGravity Summer Camp
Float and Fly Wellness Studio
1344 Locust St
563-585-1227
FloatAndFlyWellnessStudio.com
Age: 7–13
Camp 1: June 15, 17, 18, 19
Camp 2: June 22, 24, 25, 26
Camp 3: July 6, 8, 9, 10
Camp 4: July 13, 15, 16, 17
Cost: $150
Offered for the first time in Dubuque, Float and Fly Wellness Studio is proud to launch AntiGravity ® Kids, an aerial program specifically designed for children. Each AntiGravity Kid discovers the fun of exercise while developing greater courage and self-confidence as they explore all dimensions of open space supported by silk hammocks. Call to reserve your child's spot. Each camp group is limited to six campers to allow for a safe and fun experience.
Captured on Canvas
3003 Asbury Rd, Suite 2
563-663-9070
DBQArtStudio.com
Age: 6–13
Captured on Canvas offers a Little Artist Program all year round! Young artists 6–13 years of age can express their creativity and discover new painting techniques. Classes take place once a week. Join at any time for a month or get the best rate with a 3-month subscription. The program now offers more studio time at no extra cost and great discounts on ceramic items to paint.
The Grand Opera House
135 W 8th St
563-588-4356
TheGrandOperaHouse.com
Disney's Frozen JR.
Age: Entering grades 3–9
Aug 14 @ 7 PM
Aug 15 @ 2 PM
Auditions: TBA
The enchanting modern classic from Disney is ready for your Broadway Junior stars! Frozen JR. is based on the 2018 Broadway musical and brings Elsa, Anna, and the magical land of Arendelle to life, onstage. The show features all of the memorable songs from the animated film with music and lyrics by Kristen Anderson-Lopez and Robert Lopez, plus five new songs written for the Broadway production.
A story of true love and acceptance between sisters, Frozen JR. expands upon the emotional relationship and journey between Princesses Anna and Elsa. When faced with danger, the two discover their hidden potential and the powerful bond of sisterhood. With a cast of beloved characters and loaded with magic, adventure, and plenty of humor, Frozen JR. is sure to thaw even the coldest heart!
Tickets are $10 in advance or $13 at the door for adults and $7 in advance or $10 at the door for students.
Auditions will be by appointment at the end of April. Details will be announced soon.
Rising Star Theatre Company
Risingstartheatrecompany.com
Announced just as we went to press, Rising Star is back for a big summer of youth productions including Grease in June, The 25th Annual Putnam County Spelling Bee in July, and Roald Dahl's Willy Wonka in August. Naturally, it's the local talent of youth that makes these shows special, and your kids can be a part of that, from starring in the show to being part of the crucial crew that brings it all together. Auditions will take place this spring with details coming soon to their website. The first two shows will star high school students and adults while Willy Wonka will feature a cast of kids ages 8 to 18 with a role for every child who auditions!
Bell Tower Theater
2728 Asbury Rd
563-588-3377
BellTowerTheater.net
The Complete Works of William Shakespeare (Abridged)
Age: Completed Grades 8–12
June 10–12 & 17–19 @ 7:30 pm
June 13 & 20 @ 2 pm
Auditions: March 26 @ 4–7 PM; March 27 @ 1–4 PM
The Bell Tower Theater is pleased to announce auditions for its 8th annual high school show, The Complete Works of William Shakespeare (Abridged). The show will be directed by Bell Tower Theater Artistic Associate Sue Flogel. Call-backs (by invitation only) will be held on March 28 from 5:30 to 7:30 p.m.
This production is part of the Bell Tower Theater's long-running Free Summer Musical Program. Due to COVID 19, it is not possible to safely perform a large-scale musical, so for 2021, the show will be a play. The Complete Works of William Shakespeare (Abridged) is a wacky, zany, hilarious comedy with all 37 of Shakespeare's plays performed (in comedically shortened or merged form) in just over 90 minutes. Take a wild ride through all of Shakespeare's comedies, histories, and tragedies that will leave you breathless and helpless with laughter. The performers in this show are high school students from throughout the area. The show will be offered with social distance seating, a mask requirement, and other safety protocols. Tickets are on sale now at BellTowerTheater.net.
The Bell Tower Theater anticipates two casts of eight each, and the crew will be four people. Appointments are not necessary, but masks are required.
Participation in the program is free of charge to all kids. Rehearsals will be held April 4 to June 9, weekday evenings with some Saturday and Sunday afternoons.
This program is supported in part by grants and sponsorships from Dupaco Community Credit Union, Mosaic Lodge #125, Mediacom, The McDonough Foundation, and Thesien's.
St. Mark Youth Enrichment
StMarkYouthEnrichment.org
Dubuque: 563-258-2110; tnoel@stmarkyouthenrichment.org
Dyersville: 563-543-5216; rparr@stmarkyouthenrichment.org
Heroes Summer Academy: Reading Colors Your World
Age: Entering Grades K–5
June 21–July 23
Cost: $375
St. Mark Youth Enrichment is excited to be working with community partners to bring summer learning opportunities to elementary-aged students in Western Dubuque and Dubuque through the St. Mark Heroes Summer Academy. Public registration is now open and spots are limited.
The summer program will be offered for five weeks, June 21 through July 23 with no program on July 5. Classes will be held from morning through approximately noon at sites in Dyersville and Dubuque. Limited scholarship opportunities are available for families in need.
The theme this year is Reading Colors Your World, aligning with the National Collaborative Summer Library Programs. The weekly themes incorporate community service, social and emotional well-being, and health and wellness into St. Mark's Literacy and STEAM (Science, Technology, Engineering, Arts, Math, and Music) curriculum. The Dubuque program includes breakfast and lunch provided by the Boys & Girls Club. Students will also receive a weekly book and a t-shirt to keep by the end of the program.
Based on what has been learned about COVID-19 in the past year, St. Mark plans to stay in-person for the full five weeks of the summer program. If closure is dictated by state and/or local public health officials, St. Mark will transition to a virtual model until it is deemed safe. If a full transition to a virtual model becomes necessary due to COVID-19, families will be reimbursed for the weeks of in-person program missed.
Full-day options may be available in Dubuque through community partners, the Boys & Girls Club, and Leisure Services. These services are subject to change based on provider availability.
New This Year: Project STEAM
Age: Entering Grades 3–5
New this year in Dubuque is Project STEAM. Open to 3rd through 5th-grade students in Dubuque. This fun mission will have a stronger focus on Science, Technology, Engineering, Art, and Math (STEAM)–and will have a specialized curriculum and enrichment to dive deeper into the five components of STEAM. Registration for Project STEAM is currently full, however interested applicants may apply for traditional Heroes Summer Academy and request to be added to the waitlist.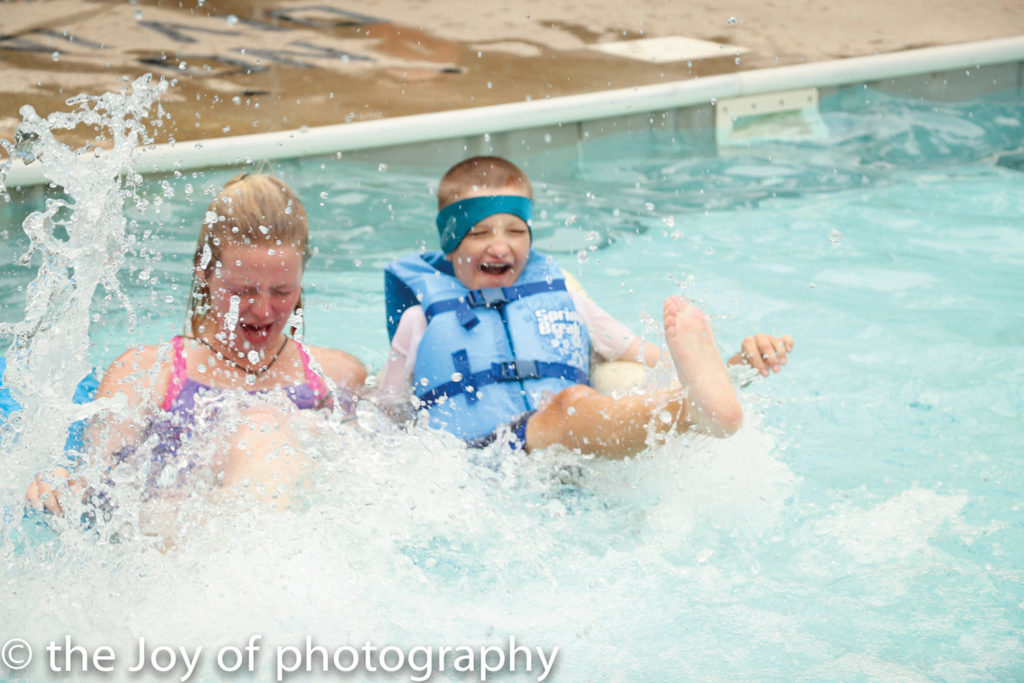 Camp Albrecht Acres
14837 Sherrill Rd, Sherrill, IA
563-552-1771
AlbrechtAcres.org
Camp Albrecht Acres is a great resource for kids with special needs. Located on 40 acres near Sherrill, IA, Camp Albrecht Acres features week-long camp experiences filled with fun including swimming, fishing, campfires, hiking, and tons of activities. In August, Albrecht Acres hosts Camp Bee A Friend, a day camp for autistic kids ages 4–12 and their typical development peers.
Additional Opportunities